The chil­dren at our campsite
In July and August chil­dren occupy an impor­tant and spe­cial place at our campsite.
Dur­ing that period we pro­vide a var­ied pro­gram of super­vised activ­i­ties, which will enable them to enjoy their hol­i­days to the full !
In the morn­ing our youngest guests are wel­comed at the Children's Club, which has its 'seat' in the bar. There they take part in cre­ative activ­i­ties such as draw­ing, paint­ing, cut­ting and past­ing, but also singing and danc­ing and play­ing games.
On other occa­sions we bake pan­cakes and piz­zas, which the chil­dren will dec­o­rate in their own spe­cial way before eat­ing them …
Games like trea­sure hunt, live bingo and live strat­ego also form part of the pro­gram, as well as 'thrilling' lantern parades (in the dark!), with lanterns made by the chil­dren themselves!
For the older boys and girls there are games and com­pe­ti­tions such as vol­ley­ball, table ten­nis and water polo.
The whole fam­ily can have fun dur­ing an evening of 'moon­light swim­ming', par­tic­i­pate in a bar­be­cue with live music, or enjoy a lovely summer's evening walk through a pic­turesque medieval village.
For the sports enthu­si­asts there are orga­nized canoe trips on the river Drôme, or the Adven­ture Park 'Indian For­est' for an excit­ing climb­ing experience.
Summer's evening walks at Mir­mande and Crus­sol Cas­tle (alternately)
At reg­u­lar inter­vals through­out the sea­son, we pay a visit to the charm­ing medieval vil­lage of Mir­mande (listed as one of the most beau­ti­ful vil­lages of France). Our stroll uphill through the mean­der­ing paved streets takes us to the pretty romanesque church of Saint Foy at the top of the hill.
Or we visit the ruins of Crus­sol Cas­tle, a 12th-​century medieval fortress perched on a rocky spur oppo­site Valence, look­ing down on the Rhône Val­ley. We begin our walk at the car park below the cas­tle ruins. At the top we are rewarded with fan­tas­tic views !
(We go by car from Saint Lau­rent du Pape to the park­ing area at Mir­mande or Crus­sol Cas­tle, where our walk starts.)
Our activ­ity pro­gram will run from the begin­ning of July until the last week of August.
Pad­dling pool
Our camp­site dis­poses of a large L-​shaped swim­ming pool (320 m2) and pad­dling pool (50 m2), both safely fenced off.
The pad­dling pool is pro­vided with mini slides for tod­dlers. Here the chil­dren can bring their own lit­tle buck­ets and balls to play with.
On the sunny ter­race there are deck chairs and para­sols (for the parents !).
The pool water is not arti­fi­cially heated.
Baby room
The large toi­let block in the lower camp­ground has a baby room with spe­cial facil­i­ties for babies and chil­dren : children's toi­lets, a children's shower, a baby bath tub and a baby chang­ing mat.
Jeu de boules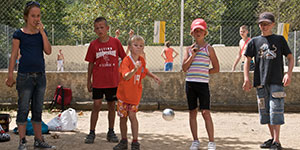 Our jeu de boules/​pétanque court is located close to the swim­ming pool under the shel­ter of plane-​trees, which makes a game of pétanque enjoy­able, even in mid­sum­mer !
Every spring, as tra­di­tion has it, we orga­nize friendly tour­na­ments against the 'pétanque' play­ers of our village.
Vol­ley­ball Court
A busy activ­ity at the vol­ley­ball court ! Play­ers young and old ardently take part in the weekly vol­ley­ball match.
Pad­dle Pool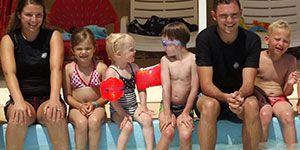 In July and August games for tod­dlers are orga­nized in the pad­dle pool : water games, danc­ing and singing, or just splash­ing around… Par­ents are wel­come to join in !
Table Ten­nis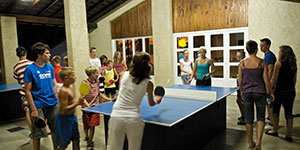 Out­side the bar there is a roofed area for play­ing table ten­nis. As this is also a meet­ing place for the young, there will always be some­one there to play with.
Children's Play­ground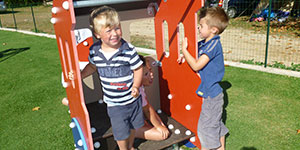 Besides the famil­iar see­saw and swing, there is also a nice lit­tle steam train, which will stim­u­late the imag­i­na­tion of the youngest. A chal­leng­ing climb­ing frame will cer­tainly seduce the big­ger ones.