Wel­come
Fam­ily camp­site in the Ardèche ,
Camp­ing La Garenne, owned by a Dutch fam­ily, is a medium sized fam­ily camp­site with 136 pitches, par­tially laid out in terraces.
Sit­u­ated halfway the 'départe­ment' Ardèche, between Valence and Mon­téli­mar, it occu­pies a par­tic­u­larly shel­tered spot at the entrance of the beau­ti­ful Eyrieux Valley.
The camp­site is only a short stroll from the vil­lage cen­ter of Saint Lau­rent du Pape, and is within easy reach of the A7/​RN7 and RN86 (15 min­utes from the A7).
The sur­round­ing hills offer ample oppor­tu­nity for lovely walks, cycling tours for rac­ing bicy­cles, or car rides.
For com­muter bikes and moun­tain bikes there are the Dolce Via and the Via Rhôna, two beau­ti­ful flat cycling trails, the one along the Eyrieux river, the other along the river Rhône.
In July and August, we offer you a var­ied activ­ity and enter­tain­ment pro­gram for all ages. In Mai, June and Sep­tem­ber, if you feel like it, you can par­tic­i­pate in pétanque com­pe­ti­tions, guided walks, excur­sions, wine tast­ing, etc.
In con­clu­sion, we'd like you to know that we speak English.
We wish you a warm wel­come at our camp­site, and sin­cerely hope that you will enjoy your stay with us.
Nils Mar­tojo
&

Judith van der Meer
Camp­ing at La Garenne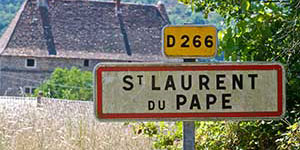 Camp­site
Our camp­site, sit­u­ated amidst the hills of the Eyrieux Val­ley, is nat­u­rally laid out, for a large part on flat ground, for a minor part in ter­races. The pitches are seper­ated by hedges, low walls or trees and have vary­ing degrees of shade. Their sizes range from 80 to 120 m2.
Mobile homes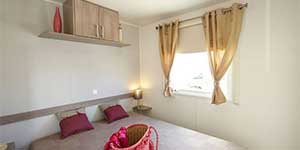 Our mod­ern and lux­ury mobile homes, which can accom­mo­date 4 per­sons, are fully equipped and have:
Safari tents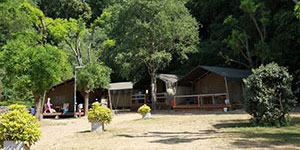 Our robust and spa­cious safari tents, which can accom­mo­date 5 per­sons, are fully equipped and have:
Lodge tents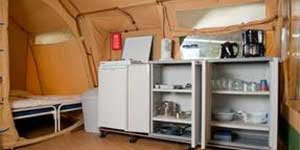 Our con­tem­po­rary lodge tents, which can accom­mo­date 5 per­sons, have: