Bon appétit !
Le Bistro
Our restau­rant 'Le Bistro' with pleas­ant and hos­pitable vibe, occu­pies a cen­tral spot on our camp­site. A cosy bar for a chat and a drink forms part of it. Restau­rant and bar over­look the swim­ming pool, as does the enclosed out­side ter­race, where mul­berry trees pro­vide ample shade for relax­ing with a cool drink or an ice cream.
Our restau­rant is invit­ing, with wooden chairs and tables, and with both intim­icy and space.
In the kitchen Nils is the 'chef'. The food he cooks is sim­ple and hon­est, pre­pared with fresh ingre­di­ents, which are often sourced from the sur­round­ing Eyrieux val­ley. His dishes com­prise French spe­cial­i­ties, like bœuf bour­guignon, gratin dauphi­nois, or sauté de dinde. But also tasty Ital­ian pas­tas or the pop­u­lar Aus­trian schnitzel.
The restau­rant is open every evening, except on Thurs­day. On that day freshly made piz­zas can be taken away, as well as chips and snacks.
Bar­be­cue — spare rib evenings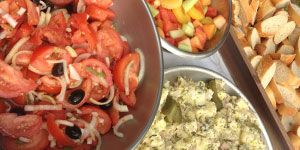 On week­ends fes­tive bar­be­cues or spare rib evenings are alter­nately held on the out­door ter­race of the restaurant.
The bar­be­cues go with var­i­ous home­made sal­ads and 'baguette', whereas the grilled spare ribs go with sal­ads and chips.
Now and then the evenings are accom­pa­nied by live music.
Indone­sian evening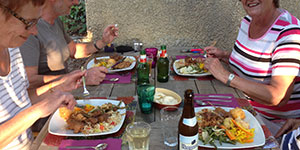 On Wednes­days we 'go ori­en­tal' and orga­nize an Indone­sian evening, a tra­di­tion which has sur­vived at the camp­site for almost twenty-​five years, and has been handed down from father to son!
Together with our team, Nils cooks var­i­ous dishes from the Indone­sian kitchen : nasi goreng, ren­dang, sam­bal goreng telor, gado gado, ajam pedis, saté, …
All the dishes are home­made and pre­pared with care.
Piz­zas and snacks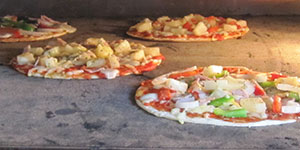 Deli­cious freshly made piz­zas can be taken away every day, except on Wednes­day.
There are ten dif­fer­ent pizza top­pings to choose from.
Chips and snacks can be taken away every day.